As I was scrolling on twitter I seen someone (can't remember who) mention that someone's worst books of 2018 but would be an interesting post. So that gave me an idea. Why not list best and worst? So that brings me to today's post. I haven't read as much as most of you, I assume. I've read 30 books this year. Which I am proud of! I actually had a pretty good reading year with some good books but some just didn't cut it for me. 
I am going to choose only 3 for my best reads and 3 for my worst reads of this year. This is going to be hard but interesting!
BEST
Sky in the Deep by Adrienne Young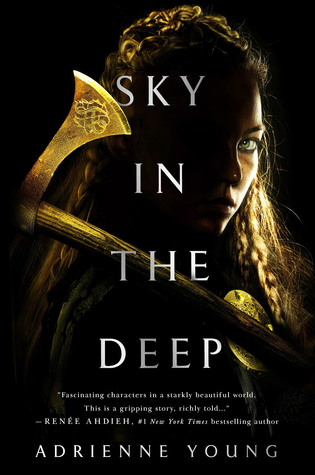 After much debating on my fantasy reads I knew this one had to make the cut! I just LOVED the viking world. It was never dull. I do enjoy some romance in any book but this didn't even have to include any because I loved this world and MC so much.
It Only Happens in the Movies by Holly Bourne
This book took me for a whirlwind! I have so much love this book. Seriously one of my favorite book covers, ever. I felt like I related to the MC so much in my teenage years. The ending was a shock but didn't need to be done any other way. I shed some tears.
Olympian Challenger by Astrid Arditi
When I read this book I fell in love with the world. It definitely has a Percy Jackson vibe but more YA than MG. The romance had me all googly eyes for a few days. The bad boy Kieron became an instant favorite of mine.
WORST
This was one of the most agonzing things I have ever read. The only reason I pushed myself was to find out the Goblin King's name and that conclusion was so underwhelming. Wintersong was way better but still the series is lacking in a lot of things for me. I was too generous with the 3 star rating.
The Queen of Hearts by Kimmery Martin
To be honest I quite rather enjoyed this story. The cover is gorgeous also. But when someone denigrates my religious belief, anyones for that matter, and also the area where I live then that is taking it too far. IT WAS NOT OKAY.
Dashing Through the Snow by Debbie Macomber
This wasn't the worst thing I have ever read but certainly not the best. It done the job of being a quick Christmas audio read while I had some stuff to get done. But that was it. The story and characters were bland.
---
LET'S CHAT
What are some of your best and worst reads of the year? Drop me your blog post if you have made one also!