Spring time is just around the corner! Things are starting to bloom everywhere here in the mountains. I am so ready for some nicer weather. I am planning on doing some spring cleaning but lets not talk about that. Lets talk about this tag. Thank you Jillian @ Jillian the Bookish Butterfly and Shanah @ Bionic Book Worm for thinking of me and tagging me to do this.
The struggle of getting started: a book or series you struggle to begin because of its size?

Well I love, love, love A Court of Thorns and Roses series by Sarah J. Maas but have yet to read Throne of Glass series because of this fact. I still plan to read it, I just don't know when.
Cleaning out the closet: a book or series you want to unhaul.
I don't know if this counts but I borrowed The Hunger Games series from my ex. After we went our separate ways he asked for them back. I was more than eager to get rid of them but he was playing mind tricks. So I still have them….
Opening windows and letting fresh air in: a book that was refreshing.
There were some aspects I didn't like in The Queen of Hearts but it was nice to read about the medical world since I love it so much.
Washing out the sheet stains: a book with a scene you wish you could rewrite.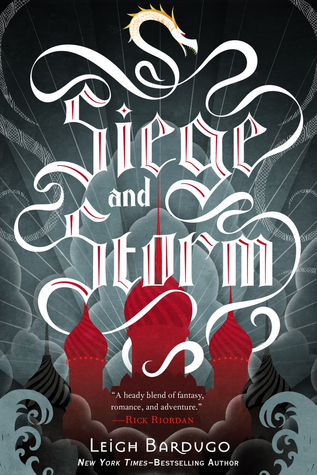 Pretty much every time Alina rejects The Darkling in The Grisha Verse. #TeamDarkling
Throwing out unnecessary knickknacks: a book in a series you didn't think was necessary.
From what I understand Untamed has all the information that The Moth in the Mirror has. I haven't even read Untamed because of that fact.
Polishing doorknobs: a book that had a clean finish.
The One ended the first part of the series real nicely. Even though there were two more books after this one. America's story was my favorite.
Reaching to dust the fan: a book that tried too hard to relay a certain message.
Turtles All the Way Down was really great. I enjoyed it. But I was getting nervous reading how many things crossed Aza's mind. Which I guess was the point but I could have had it dialed down a notch.
The tiring yet satisfying finish of spring cleaning: a book series that was tiring but satisfying to get through.
I am going to go with one that I have still yet to finish because it seriously is the longest series I have ever read. Earth Angel series is really great but I had to take a break.
I Tag:
Jessica @ Odd and Bookish
Michaela @ Journey into Books
Mandy @ Book Princess Reviews